Two friends, soon to leave for college, become cow girls and grow closer to one another. Explicit.
I learned I was gay the same day I turned into a cow girl.
Sam and I both wanted to go to the mall, so she drove us there in the used Subaru her parents got her for graduation. We were both restless. It was our last summer: stuck between the end of high school and the start of college, trying not to count the days and months until we'd both be moving into our dorms.
Even the mall felt ready to change. They still hadn't fixed the floor tile that clinks when you step on it, or the one duct-taped on the corner because it'd broken off, but it was already drifting away from the place we knew. A cheaper clothes store had moved into where the Old Navy had been. The bookstore where we'd spent days and days working our way through the manga shelf had been replaced by a branch of the local library.
"That's probably why they went out of business. If we'd actually bought books..." Sam said.
I said, "No one bought books. And then they were like, 'we're basically a library, let's make it official'."
We wandered up the first floor and down the second. Eventually, we started doing the thing where we'd point at ads as we passed and try to imitate whatever goofy grin the person had. It felt normal enough, but in the back of my head, Sam was playing soccer in her new school colors and hanging up posters she'd bought with me in her dorm room and laughing with new friends whose faces I'd pulled from TV shows. Would we even want to hang out when we came home for break? I knew we would change as people, but I didn't know how.
And I definitely wasn't expecting to get changed into a cow.
---
Chris is not a cow, but everyone around him disagrees on that point, and so does his udder. Explicit.
Chris was not a cow.
But a droplet of milk seeped through Chris's shirt. There was a needle-sting jolt as it leaked out of him, then rolled down his chest. It left a small, off-white stain in its trail. By the time he'd lifted his hands from the keyboard and sat up in his chair, the wet patch had cooled. His nipple was stiff.
Chris was also not turning into a cow.
Which meant he had to explain why the milk he'd just leaked wasn't actually milk. Maybe he'd drooled on himself? Maybe pipe in the ceiling was leaking? Maybe he was actually just sweating?
At the very least, he could prove he wasn't lactating. Watch. With one hand, he prodded the dry side of his chest. See, he—
A small grunt died in the back of his throat. Just the warmth and pressure of his fingers through his shirt was enough to kickstart something in his chest.
His hands gripped the desk and he bit back a whine. The sting was back, and at his other nipple this time. A few drops rolled through his shirt, wobbled fatly, and then fell onto his desk. Plip-plip. It hurt, but it was the sort of pain that would be worse if he fought it. It was the sort of pain that relieved aching tightness.
He exhaled and looked down. Twin stains ran down his chest, with his swollen nipples poking against his shirt at the top of each. The wet fabric felt even rougher than when it was dry.
He needed to get home and fix this. He'd go to a hospital if he had to. He wasn't a cow, and he wasn't going to be a cow.
---
A paid anthology of corporate bovine transformation. Explicit.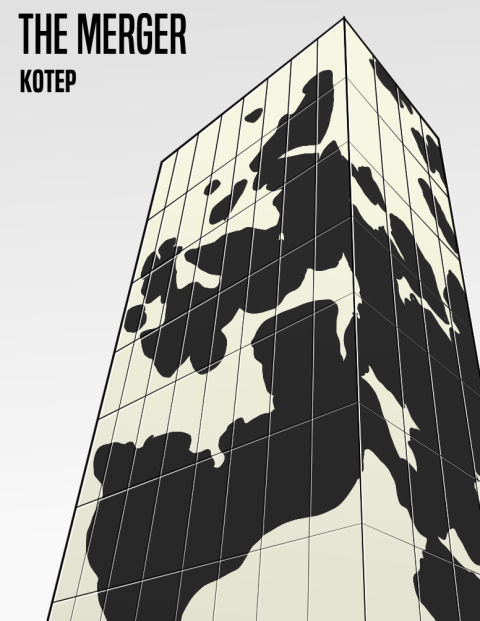 "TO: Erica Vale
RE: RE: Change in management
I'm having a problem right now. My hand just turned into a hoof and this is going to sevfcvb"
The Merger is an anthology of corporate bovine transformation, coming in at nearly 22,000 words of TF shenanigans. It's got cow TF, male-to-female TF, lactation, cowtaur TF, bimbo TF, bull TF, and collie TF. (And that's not even mentioning the lactation and breeding.)
Buy it now through Paypal for $5! Comes as a PDF and EPUB.
If you'd like to get a taste of just how milky it is, you can read an excerpt from the first chapter right here.
---